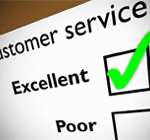 A testimonial from a satisfied client or employer is an award all by itself.  At Career Path Services, we make every effort to recognize exceptional service provided by our employees.  Take for example a letter we just recently received in regards to one of our Employment Specialists:
I have recently had the pleasure of having Ms. Lisa Ochs as my Worksource/WIA Financial Counselor. I'd like to compliment her for a job well done for the excellent service she provided to me through this process. Ms. Ochs helped me to apply for the grant for my apprenticeship program and through her extraordinary efforts was able to fast-track my application as my situation was very unique time-wise. Ms. Ochs' professionalism and ability to expedite the financial aid process exceeded my expectations.Due to the unusual circumstances that pertained to my situation, I was not sure if this would be possible. However, Ms. Ochs assured me that she could and would accomplish this. To my amazement, she did.
Within a surprisingly short amount of time, she was able to take my application from start to finish, and I am on my way to a new career. I cannot express to you how important this is to me and my family. This is a life changing event.
Such a commitment to great customer service should be commended!
Sincerely,
Brian P.
Have you had a positive experience with Career Path Services you'd like to share with us?  Please contact us and share your story!